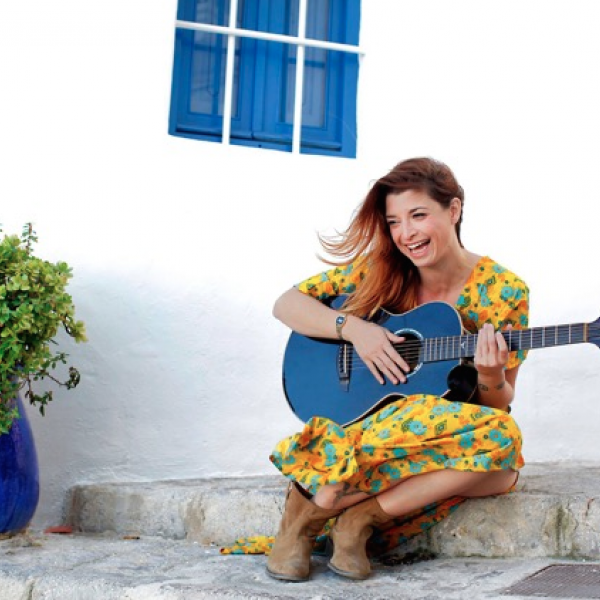 Acoustic Soulstress
Pop & Soul - Acoustic solo to Full Band
Acoustic Soulstress - Pop & Soul
With a repertoire that stands to contain pop, soul, funk, disco, house, electronic, folk, blues and indie…. she can appeal to almost any crowd. But the magic is in the way she transforms these songs into beautiful, reimagined acoustic versions. Her voice is unforgettable and she's been involved in some of the biggest bands in the island's recent years performing in Pacha, Space, Blue Marlin, Ibiza Rocks, Hard Rock Hotel and Atzaro.
As well as her musical talent, she's a lovely person with a high standard of professionalism.
Have your whole event's music for the day expertly catered for - beautiful acoustic ceremony renditions, followed by her duo "The Acoustic Songbirds", or her popular band "Funky House trio" to warm things up. Later into the evening, discover her as a super smiling DJ full of surprises whenever she grabs the mic. That really turns heads!
The Soulstress is also a DJ!
She can be booked for an hour with your DJ (or DJ herself) to really get the party started… she can nail any major house classic with ease and pure passion, be it Jocelyn Brown, Robin S or Beyonce!
Some of Acoustic Soulstress's repertoire...
1950s
Blues - Mojo Working
Nina Simone - My Baby Just Cares For Me
Eddie Cochran - C'mon Everybody
Eddie Cochran - Summertime Blues
Elvis Presley - Jailhouse Rock


1960s
Aretha Franklin - Natural Woman
Aretha Franklin - Groovin'
Aretha Franklin - Think
The Band - It Makes No Difference
The Band - The Weight
The Beatles - In My Life
The Beatles - Maxwell's Silver Hammer
The Beatles - All You Need Is Love
The Beatles - Help
The Beatles - Saw Her Standing There
The Beatles - She Loves You
The Beatles - I'm Looking Through You
The Beatles - I Am The Walrus
The Beatles - Back in the USSR
The Beatles - Yellow Submarine
The Beatles - Drive My Car
The Beatles - Norwegian Wood
The Beatles - Hey Jude
The Beatles - Come Together
The Beatles - From Me To You
The Beatles/Joe Cocker - Little Help From My Friends
The Beatles - I Wanna Hold Your Hand
The Beatles - Here, There and Everywhere
The Beatles - Oh Darlin
The Beatles - Here Comes The Sun
Marlena Shaw - California Soul
Elvis Presley - Suspicious Minds
Elvis Presley - Little Less Conversation
Etta James - Something's Gotta Hold On Me
Etta James - W.O.M.A.N
Ray Charles - Georgia On My Mind
Dion - Runaround Sue
Smokey Robinson - Really Gotta Hold On Me
Smokey Robinson - Tracks of my Tears
Smokey Robinson - Tears of a Clown
Bob Dylan - Tonight I'll Be Staying Here With You
Bob Dylan - It Ain't Me Babe
Bob Dylan - Like A Rolling Stone
Bob Dylan - I'll Be Your Baby Tonight
Bob Dylan - You're Going To Make Me Lonesome When You Go
Bob Dylan - Knockin' On Heaven's Door
Bob Dylan - Rainy Day Women 12 and 35
Bob Dylan - Lay Lady Lay
The Band/Bob Dylan - I Shall Be Released
Jefferson Airplane - White Rabbit
The Shirelles - Will You Still Love Me Tomorrow?
Small Faces - Itchycoo Park
Sam Cooke - What A Wonderful World
Sam Cooke - Cupid
Sam Cooke - A Change Is Gonna Come
Sandie Shaw - Always Something There To Remind Me
The Animals - Don't Let Me Be Misunderstood
The Turtles - Happy Together
Ben E. King - Stand By Me
Deep Purple - Hush
Them - Gloria
The Lovin' Spoonful - Daydream
The Mamas and Papas - California Dreaming
The Mamas and Papas - Dream a Little Dream of Me
Neil Young - Old Man
Johnny Cash - Ring Of Fire
Johnny Cash - Folsom Prison Blues
The Doors - Love Her Madly
The Doors - Light My Fire
Cream - White Room
Cream - I Feel Free
Tom Jones - It's Not Unusual
Tom Jones - Delilah
Dusty Springfield - Spooky
James Brown - I Feel Good
The Rolling Stones - Paint It Black
The Rolling Stones - Satisfaction
The Rolling Stones - Sympathy For The Devil
The Rolling Stones - Get Off My Cloud
Jackie Wilson - Higher and Higher
Nancy Sinatra - These Boots Are Made For Walking
The Kinks - All Day and All Of The Night
The Kinks - Sunny Afternoon
The Kinks - Dedicated Follower Of Fashion
Four Tops - Can't Help Myself
Shocking Blue - Venus
Eddie Floyd - Knock On Wood
Van Morrison - Brown Eyed Girl
Boxtops - The Letter
Bruce Channel - Hey Baby
Martha & The Vandellas - Dancing In The Street
The Supremes - Where Did Our Love Go?
Dolly Parton - Jolene
Janis Joplin - Piece Of My Heart
Jeff Beck - Hi Ho Silver Lining
The Foundations - Build Me Up Buttercup
Monkeys - I'm A Believer
Monkees - Daydream Believer
Marvin Gaye - Heard It Through The Grapevine
Marvin Gaye - How Sweet It Is
Otis Redding - Dock Of The Bay
Dusty Springfield - Son Of A Preacher Man
The Animals - House Of The Rising Sun
Johnny Nash - I Can See Clearly
Stevie Wonder - I Was Made To Love Her
Zombies - She's Not There
The Who - Substitute
The Temptations - My Girl
Creedence Clearwater Revival - Proud Mary
Creedence Clearwater Revival - Bad Moon Rising
Ray Charles - Hit The Road Jack
Ray Charles - Moving On
Spencer Davis Group - Keep On Running
Jimi Hendrix - Hey Joe
Jimi Hendrix - The Wind Cries Mary
Ray Charles - What I'd Say
Dionne Warwick - Walk On By
Dr John - Such A Night
Fontella Bass - Rescue Me
The Kinks - Lola
Louis Armstrong - What a Wonderful World
Led Zeppelin - Communication Breakdown
The Beach Boys - Wouldn't It Be Nice
The Beach Boys - Fun Fun Fun
Jimmy Reed - Baby, What You Want Me To Do
Crosby, Stills, Nash and Young - Woodstock



1970s
Stevie Wonder - I Wish
Stevie Wonder - Signed Sealed Delivered
Stevie Wonder - Sir Duke
Michael Jackson - The Way You Make Me Feel
Michael Jackson - Rock With You
Al Green - Let's Stay Together
Bill Withers - Lovely Day
Doobie Brothers - Long Train Running
Marvin Gaye - Let's Get It On
The Rolling Stones - Honky Tonk Woman
The Rolling Stones - Brown Sugar
John Lennon - Imagine
The Undertones - Teenage Kicks
Joni Mitchell - Big Yellow Taxi
Blondie - Heart Of Glass
Elton John - Your Song
Gladys Knight - Neither One Of Us
Gloria Gaynor - I Will Survive
Boomtown Rats - I Don't Like Mondays
Thin Lizzy - The Boys Are Back In Town
Thin Lizzy - Whiskey In The Jar
Fleetwood Mac - Go Your Own Way
Fleetwood Mac - Say You Love Me
Jackson 5 - Blame It On The Boogie
Bill Withers - Lean On Me
Labelle - Lady Marmalade
Eric Clapton - Layla
Pink Floyd - Wish You Were Here
Queen - Don't Stop Me Now
Queen - We Are The Champions
Hot Chocolate - You Sexy Thing
Roxy Music - Love Is The Drug
Rod Stewart - Maggie Mae
Curtis Mayfield - Move On Up
David Bowie - Suffragette City
David Bowie - The Man Who Sold The World
Chic - Good Times
Abba - Gimme Gimme Gimme
Donna Summer - Hot Stuff
Talking Heads - Psycho Killer
Deep Purple - Black Night
Led Zeppellin - Rock & Roll
Lynyrd Skynyrd - Sweet Home Alabama
Bee Gees - Stayin' Alive
Rufus and Chaka Khan - Tell Me Something Good



1980s
The Cure - Close To Me
The Cure - Just Like Heaven
The Cure - Love Song
Human League - Don't You Want Me
Beastie Boys - Fight For Your Right
Eurythymics - Sweet Dreams
Simple Minds - Don't You Forget About Me
Hall and Oates - Can't Go For That
Hall and Oates - You Make My Dreams
Prince - Kiss
George Michael - Careless Whisper
Billy Idol - Dancing With Myself
Wham - Freedom
Wham - Wake Me Up Before You Go Go
Madonna - Material Girl
Tears For Fears - Everybody Wants To Rule The World
The Smiths - Please, Please, Please Let Me Get What I Want
The Smiths - Girlfriend in a Coma
The Smiths - The Queen Is Dead
The Smiths - Panic
The Jam - Town Called Malice
Survivor - Eye of The Tiger
Whitesnake - Here I Go Again
Queen - I Want To Break Free
Bon Jovi - You Give Love A Bad Name
Blondie - The Tide Is High
Queen - Crazy Little Thing Called Love
Sinead O'Connor - Nothing Compares 2 U
U2 - With Or Without You
U2 - Where The Streets Have No Name
Fleetwood Mac - Everywhere
AC/DC - You Shook Me All Night Long
Michael Jackson - Beat It
Michael Jackson - Thriller
The Pointer Sisters - I'm So Excited
The Pretenders - Don't Get Me Wrong
Cyndi Lauper - Time After Time
Pogues - Dirty Old Town
Guns n Roses - Sweet Child o Mine
Joy Division - Love Will Tear Us Apart
Dead Or Alive - You Spin Me Round
Cyndi Lauper - Girls Just Wanna Have Fun
Lionel Richie - All Night Long
Phil Collins & Phillip Bailey - Easy Lover
Deacon Blue - Dignity
Michael Jackson - Billie Jean
The Clash - Should I Stay Or Should I Go?
New Order - Blue Monday
Chaka Khan - Ain't Nobody
Rick Astley - Never Gonna Give You Up
Bruce Springsteen - Dancing In The Dark
Waterboys - Fisherman's Blues



1990s
Foo Fighters - Hero
Sheryl Crow - Love Is A Good Thing
Sheryl Crow - If It Makes You Happy
Pulp - Common People
James - Sit Down
Metallica - Nothing Else Matters
Tom Petty & The Heartbreaker - American Girl
The Cardigans - My Favourite Game
EMF - Unbelievable
Dee-lite - Groove is in the Heart
Morrissey - The More You Ignore Me, The Closer I Get
Van Morrison - Back On Top
Radiohead - Just
Ce Ce Peniston - Finally
Jamiroquai - Cosmic Girl
The Verve - Bittersweet Symphony
Nirvana - Come As You Are
Nirvana - Smells Like Teen Spirit
Corona - Rhythm Of The Night
Ocean Colour Scene - The Day We Caught The Train
Alanis Morissette - You Oughta Know
Alanis Morissette - Hand In My Pocket
Tina Turner - Simply The Best
TLC - No Scrubs
Depeche Mode - Personal Jesus
Moby - Natural Blues
Baby D - Let Me Be Your Fantasy
Stone Roses - She Bangs The Drums
Massive Attack -Teardrop
Massive Attack - Unfinished Sympathy
Blur - Song 2
Spin Doctors - Two Princes
Cranberries - Zombie
Cranberries - Linger
Paul Weller - You Do Something To Me
Stone Roses - Ten Storey Love Song
The Cure - Friday I'm In Love
Pixies - Where Is My Mind
Robin S - Show Me Love
The La's - There She Goes
Tom Jones - Sexbomb
Mike & The Mechanics - Over My Shoulder
The Corrs - What Can I Do
U2 - One
Aslan - Crazy World
Proclaimers - 500 Miles
Grace - Not Over Yet
Gala - Freed From Desire
Bon Jovi - You Give Love A Bad Name
Jeff Buckley - Hallelujah
Israel Kamakawiwoole - Somewhere Over The Rainbow/What a Wonderful World
Artful Dodger - Movin' Too Fast


2000s
The Script - Breakeven
The Script - The Man Who Can't Be Moved
Outkast - Hey Ya
Zutons - Remember Me
Richard Ashcroft - Song For The Lovers
Arctic Monkeys - Bet That You Look Good On The Dancefloor
Amy Winehouse - Rehab
Amy Winehouse - Back To Black
Amy Winehouse - Stronger Than Me
Amy Winehouse - Valerie
Amy Winehouse - You Know I'm No Good
Angie Stone - Wish I Didn't Miss You
Florence + The Machine - You Got The Love
Florence + The Machine - Dog Days Are Over
The White Stripes - Dead Leaves and The Dirty Ground
Alicia Keys - Empire State Of Mind
Coldplay - Clocks
Coldplay - Yellow
Coldplay - The Scientist
Gnarls Barkley - Crazy
Coldplay - Fix You
Nelly Furtado - Say It Right
Bob Sinclar - World Hold On
James Morrison - You Give Me Something
Beyonce - Halo
Feist - One Two Three Four
Foo Fighters - Times Like These
Franz Ferdinand - Take Me Out
Christina Aguilera - Beautiful
Norah Jones - Creepin In
Norah Jones - I've Got To See You Again
Booty Luv - Boogie 2Nite
Madison Avenue - Don't Call Me Baby
Shapeshifters - Lola's Theme
KT Tunstall - Suddenly I See
Zero 7 - Destiny
John Legend - Ordinary People
Jack Johnson - Better Together
Dandy Warhols - Bohemian Like You
Rihanna - Umbrella
Duffy - Mercy
Duffy - Warwick Avenue
Basement Jaxx - Romeo
Snow Patrol - Run
Snow Patrol - Chasing Cars
Kings Of Tomorrow - Finally
Paolo Nutini - Last Request
Beth Rowley - Sweet Hours
Jose Gonzalez/The Knife - Heartbeats
Foo Fighters - The Pretender
The Strokes - Someday
The Strokes - Last Nite
Alicia Keys - If I Ain't Got You
Kings Of Leon - Sex on Fire
Kings of Leon - Use Somebody
Kooks - Naive
The Killers - Mr Brightside
Destiny's Child - Survivor
Kylie Minogue - Can't Get You Out Of My Head
White Stripes - Seven Nation Army
White Stripes - Fell in Love with a Girl
Sam Sparro - Black & Gold
Mumford & Sons - Little Lion Man
Stereophonics - Dakota
Stereophonics - Handbags and Gladrags
Stereophonics - Pick a Part That's New
PJ Harvey - Good Fortune
U2 - Elevation
Robyn - With Every Heartbeat
Pendulum - Propane Nightmares
The Libertines - Can't Stand Me Now
Steve Earle - Galway Girl
Kasabian - LSF
All Saints - Black Coffee
Adele - Hometown Glory


2010s
Adele - Rolling In The Deep
Adele - Set Fire To The Rain
Ed Sheeran - Thinking Out Loud
Ed Sheeran - Sing
Ella Henderson - Ghost
Cee-Lo Green - Forget You
Clean Bandit feat. Jess Glynne - Rather Be
Lady Gaga - Bad Romance
Lana Del Rey - Videogames
Kygo - Firestone
Daft Punk - Get Lucky
Calvin Harris feat Florence Welsh - Sweet Nothing
Ellie Goulding - Burn
Ellie Goulding - Love Me Like You Do
Ellie Goulding - How Long Will I Love You
Taylor Swift - Shake It Off
Taylor Swift - We Are Never Getting Back Together
A Great Big World & Christina Aguilera - Say Something
Sia - Chandelier
Sia - Elastic Heart
Naughty Boy feat. Sam Smith - La La La
Hozier - Take Me To Church
Tame Impala - Feels Like We Only Go Backwards
Rihanna, Kayne West and Paul McCartney - Four Five Seconds
Rihanna and Calvin Harris - We Found Love
John Legend - All Of Me
Lorde - Royals
Coldplay - Paradise
Disclosure feat. Sam Smith - Latch
Years and Years - King
Lumineers - Ho Hey
Katy Perry - Roar
Jess Glynne - Right Here
Pharrell Williams - Happy
Sam Smith - I'm Not The Only One
Emeli Sande - Next To Me
Bruno Mars - Marry You
Lykke Li - I Follow Rivers
Birdy - People Help The People
Maroon 5 - Moves Like Jagger
Beyonce - XO
Acoustic Soulstress Videos
Acoustic Soulstress Music:
Acoustic Soulstress Images