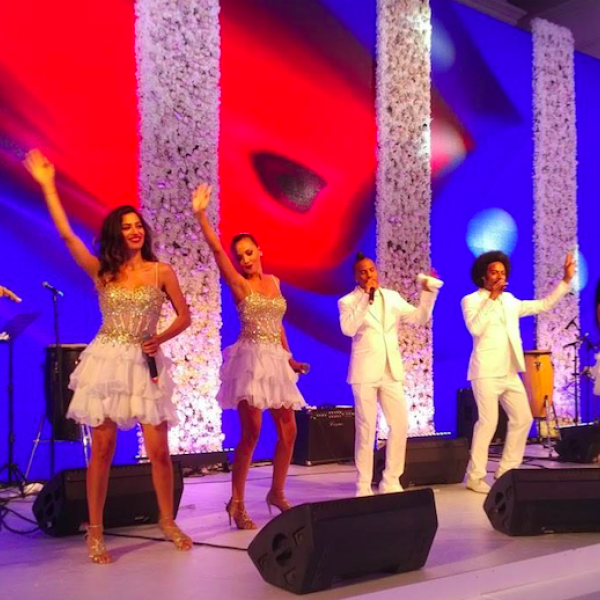 Montecarlo Party Band
LIVE PERFORMANCE WITH THE VERSATILITY OF A DJ
Montecarlo Party Band is an international bespoke musical concept composed of female and male artists. Their vocal & visual performance, dynamism and extensive repertoire is fully adapted to the audience's expectations. Their vibrant and energetic performances have won over and built up an international, demanding and loyal audience over the years.
The Montecarlo Party Band performance will adapt to every moment of your event.
From cocktails through dinner and dancing, the Montecarlo Party Band boast an extensive repertoire that will set the right atmosphere throughout your entire event.
Available for corporate events, a weddings, award ceremonies or private party's.
As well as a wide range of Arabic, Russian and Hispanic songs.
The Montecarlo Party Band have performed worldwide in some of the most prestigious venues.
From the US to Russia and through Europe, the Middle and Far East, the Montecarlo Party Band have travelled the world to deliver exclusive performances to their esteemed clientele.
Repertoire by artist...
Usher, Chris Brown, Black Eyed Peas, David Guetta, Rihanna, Shakira, Nicki Minaj, Pitbull, Barry White, Aretha Franklin, Michael Jackson, Maroon 5, Nancy Ajram, Alabina, Gypsy King, George Michael, Jennifer Lopez, Gloria Estefan, Adele, Jessie J, Beyonce, Gloria Gaynor, Abba, Bee Gees, Diana Ross, Boney M, Donna Summer, Kool & the Gang, Pink Martini, Edith Piaf, Joe Dassin, Danny Brillant, Patricia Kass, Zaz, Ray Charles, Wilson Picket, James Brown, Coldplay, John legend, Enrique Iglesias, Justin Bieber, Calvin Harris, Neyo, Rolling Stones...
Montecarlo Party Band Videos
Montecarlo Party Band Cannes 2017
Montecarlo Party Band - Happy
Montecarlo Party Band - Dubai Corporate
Montecarlo Party Band - Dubai Wedding
Montecarlo Party Band Music:
Montecarlo Party Band Images