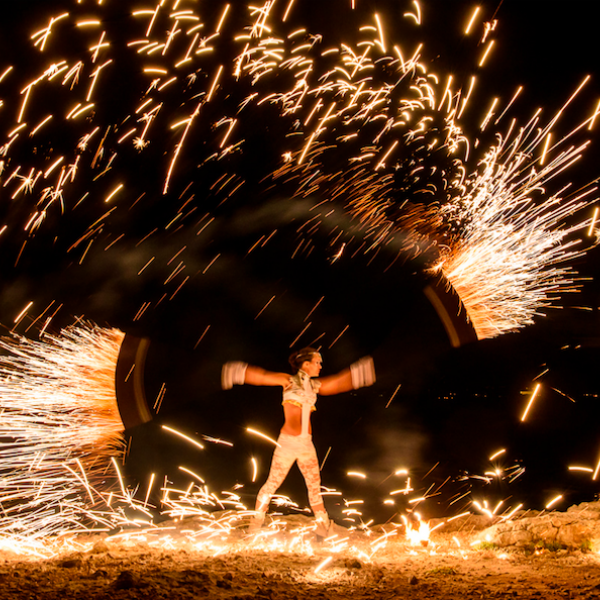 Dance - Fire - LED (Light) Show
Dance - Fire - LED (Light) Show
Dance - Fire - LED (Light) Show
A new Luminary Light Show Performed with mesmerising lights through dance and precise visuals effects.

This new modern technology of visual art gives you a interesting opportunity to present your companies logos, images for any special occasions. Images with names ,pictures ,numbers in order to personalise your event.
This LED show is perfectly suitable indoors, as well as location with high risk of fire.
Internationally known and traveled fire dancer. Wide range of costumes and shows to fit every celebration.
You can choose the style and theme of your event and participate in choosing the costume.
The music dances as her body floats creating an atmosphere of spectacular harmony. Shows are from 10 to 20 minutes in length and can take place at almost any location, inside or outside. Many types of show are available.
Location requirements
For a performance it is required that the area or stage is at least 3 metres by 3 metres. In case I work with fire the room should have a height of 3 meters, to comply with safety regulations. I am fully equipped to create a save theatre environment.


FULL FIRE SHOWS
Fire Fan: a nice highlight for any occasion
Fire Candles: dancing with fire based in my hand.
Fire Umbrella : a act in burlesque style, and no rain in sight ;-)
Fire Poi: the classic fire comets circling each other elegantly around the body, showing dynamic shapes
Fire Ropes: Eye catching fire circles in fast spinning motion.
For any occasion I offer a variety of shows, like cabaret, modern dance etc...
FULL DANCE SHOW
Radiant gold or silver wings: a mesmerising act, a delight for the eyes.
Iridescent Flags: Enchanting Performance, with twirling Flags.
Silk Fan: A flowing uplifting dance act
FIRE & DANCE SHOW
I can create a performance for you in which I combine part of the dance show with fire movements. This is customazible according to your wishes.
Dance - Fire - LED (Light) Show Videos
Dance - Fire - LED (Light) Show Images